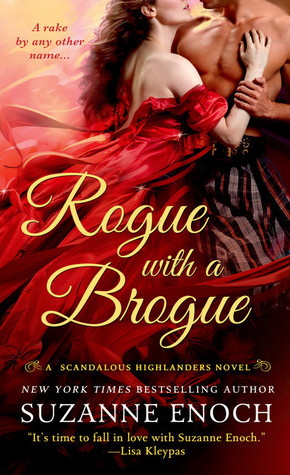 This was an Orange Public Library new release find.
This past week I did some traveling out-of-town and knew I would have some down time to waste in a book. After hitting up the local library, and stocking up on both audio and printed books, I was ready to hit the road.
The title of this book basically tells it all, unless you wanted to be difficult and use literal definitions of the words.In that case, it would be a fine book about a wild pachyderm who wears the shoes of an Irish peasant. While in some circles that may sound like quite the must read, I'm just not up for elephants at the moment. So, lets just assume that whoever you are, that you are a fellow bibliophile and have read a historical romance or two (or 500, whatever). In that case the title is very obviously about a Scottish bad boy.
Suzanne Enoch is yet another new author for me to explore. What I really enjoyed about this example of her work was that it wasn't just sex sex sex sexxxxx, with throbbing this and jiggling that's. There was a very good storyline, with great character development and interactions. I won't lie and say I have never read a book like this before, because I have, but what made this different was that the attraction and romance between the characters actually took the time to grow as they went against the grain in a  centuries old familial conflict.
The MacLawry and Campbell dispute has a very Romeo and Juliet feel to it. They were raised to basically hate all members of the opposite clan, and this went of for many generations. It was to the point that the current generation had no clue as to why the other family was so despicable. Under normal circumstances the two families never would have had chance to interact. The Campbell's had moved to England for a better life, while the MacLawry's worked for growth and improvement in Scotland.When Ranulf MacLawry, the leader of the clan, set out to create a truce with the Campbell's (and fell in love with a Sasannach) Arran MacLawry, traveled to England to set Ranulf straight. What Arran didn't expect was that he would fall for one too.
I honestly enjoyed this title, and hope to find more by Enoch. Her style incorporated stylized writing to emphasize the accent of the Scottish characters, and it offered an appreciated sharp contrast to the more proper Englishmen. Another aspect was the usage of Scottish terminology as the characters spoke to one another.
If you have some down time, it wouldn't hurt to give this one a try.